Six new playgrounds installed in Zaragoza
The residents of Zaragoza enjoy 6 new playgrounds manufactured and installed by Industrias Agapito.
The 6 new children's playgrounds installed in Zaragoza have been designed taking into account the needs of all users, incorporating in each playground playsets adapted for children with different abilities, as well as those for toddlers from 0 to 3 years old, and older children.
In the 6 playgrounds, there are modern Tribox swings made of round steel posts with polyethylene decorations, such as the swing with nest seat that allows its use by children with disabilities, swings with flat rubber seats, swings with baby seats and, most notably, the swing with integration harness seat. 
In all of these recently installed playgrounds, there are integration spring games, such as the R4613 model with one seat adapted for children with disabilities, which allows easy access from wheelchairs and has a large seat with special handles for greater stability, or the Spooky Fluffy-themed integration spring game from the Spooky series and the inclusive see-saw, The Sunflower.
For the youngest children, complementing the swings with baby seats, early stimulation games for children from 0 to 3 have been installed in the area, such as the balance bars and the original monster-themed crawling tunnels.
In one of the playgrounds, the Firehouse integration multi-play structure has been installed, which can be used by children with wheelchairs and is equipped with various didactic and inclusive games. For the rest of the playgrounds, the different versions of the Tribox range of multi-play structures have been chosen, one of them being the integration multi-play structure "Tribox for all" with accessible platforms, a slide for children with disabilities, the Braille clock game to learn the numbers in Braille and the game panel with the complete universal sign language alphabet.
Today, we are pleased to announce the addition of three fun animals that are now part of the Nature series, inspired by nature and designed to stimulate children's imagination.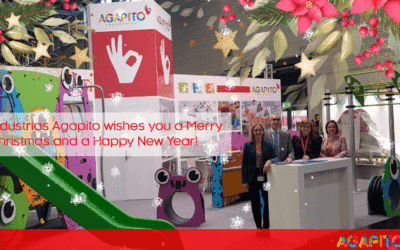 As Christmas holidays arrive, we inform you that Industrias Agapito factory, will be closed from wednesday 22nd until January 2nd. Regarding sales department, we will be open on days…
Switzerland is one of the most developed countries in the world and three of its cities: Zurich, Geneva and Basel, have been ranked among the top ten cities in the world for quality of life….