Location: Guipuzcoa, Spain.

Project: Integration playground.

Inclusive playground: ASPACE Gipuzkoa
A complete inclusive playground with playground equipment adapted for children with special needs.
ASPACE Gizpukoa has an inclusive playground adapted for children with disabilities, equipped with certified children's games in accordance with European safety standard EN-1176.
The children's inclusive area consists of a swing adapted for wheelchairs by means of a large platform and easy access through a folding ramp. The child can start and maintain the swing by himself/herself using the existing grips. A safety and grip system blocks the cabin when the child is on the inside of the platform. Next to the wheelchair swing is another nest swing equipped with a large basket suitable for older children with disabilities.
The inclusive wheelchair-friendly multi-game is themed with a fire station equipped with the various interactive games located at a height suitable for use by a child in a wheelchair such as the Braille Clock or the Universal Sign Panel. This adapted multigame has an inclusive slide made twice as wide as usual for children with disabilities.
The Sunflower and La Tumbona inclusive spring riders  are designed to be used by people with disabilities in a safe way. The upper surface of the adapted spring rider is made of rubbery, non-slip high- density polyethylene to provide the disabled child with comfort and safety while playing.
The light and color playkit for early stimulation uses sunlight to form colors by overlapping the three primary colors. During play, the child's sense of sight is stimulated, and discovers and understands the effects of light and color, exercises fine motor skills, and learns colors in English.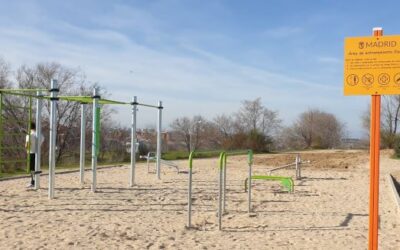 The execution of these 22 urban calisthenics parks involved its civil works, manufacture, supply, installation and subsequent inspection and certification under the European standard EN 16630 by…
Complete children's playground installed on an idyllic beach in Qurm, Oman. This complete playground, designed and manufactured by Industrias Agapito, is located on the sand of one of the beaches of Qurm, in Oman, next to cliffs and palm trees.  The children's area is...
All children, regardless of their physical condition, have the right to play. Fulfilling this right is possible with inclusive playgrounds. Thanks to playgrounds adapted for children with limited mobility…