Fecha: September 2019.

Ubicación: Madrid, Spain.

Proyecto: Playground.

Playground with EPDM 3D shapes
EPDM 3D shapes bring a new way of playing in playgrounds
Thanks to the 3D games made with EPDM, the rubberized safety floor takes prominence becoming an original children's game. An ideal complement for playgrounds, which in addition to decorating and giving a distinctive style to the children's area, encourages children's imagination and the development of their social skills.
The possibilities are endless. We have EPDM shapes of animals, hopscotches, smiling faces, children's tunnels, stars, among others. Feel free to consult our technical sales department for a catalog of 3D shapes and elements made of EPDM for children's playgrounds.
Inside its sports facilities, Club de Tenis Chamartín has an original children's playground composed of a multigame, a children's house, dock games and various 3D shapess and 2D games made of EPDM integrated into the safety floor forming a fun and colorful game circuit. The design of this playground encourages children to play through the EPDM hopscotch, the mini tunnel for children, the huge Ladybug, some funny 2D ants, the curious snake and the game of three in a row.
Check out Industrias Agapito's wide range of rubber playground equipment and make a difference with an innovative and original design.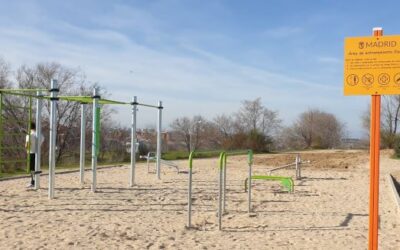 The execution of these 22 urban calisthenics parks involved its civil works, manufacture, supply, installation and subsequent inspection and certification under the European standard EN 16630 by…
Complete children's playground installed on an idyllic beach in Qurm, Oman. This complete playground, designed and manufactured by Industrias Agapito, is located on the sand of one of the beaches of Qurm, in Oman, next to cliffs and palm trees.  The children's area is...
All children, regardless of their physical condition, have the right to play. Fulfilling this right is possible with inclusive playgrounds. Thanks to playgrounds adapted for children with limited mobility…