Location:

Balearic Islands, Spain.



Project: Calisthenics Park.

Calisthenics equipment in Marrachí, Balearic Islands
Calisthenics equipment installed by the Municipality of Marrachí in Parque Mediterraneo.
The municipality of Marrachí, located in the Balearic Islands, has installed a calisthenics area in Parque Mediterraneo in order to support urban leisure based on sports and outdoor activities.   
The street workout equipment is composed of a structure of 12 round galvanized poles joined together by calisthenics bars and two horizontal stairs. The calisthenics structure also has a vertical calisthenics bar for specific exercises and routines. 
The placement of calisthenics bars at different heights allows to perform various street workout tricks and facilitates the initiation to the practice of this urban sport to users of different heights. The horizontal stairs, also called calisthenics, are ideal for strengthening the upper body, allowing the practice of multiple exercises. 
The calisthenics area is complemented by a general instruction sign that incorporates a plate with a QR code that gives free access to tutorial videos on calisthenics routines and exercises recorded by Industrias Agapito.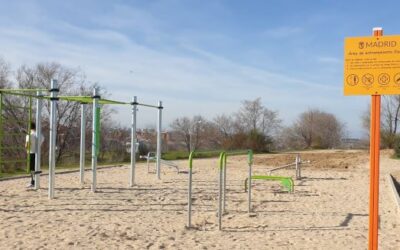 The execution of these 22 urban calisthenics parks involved its civil works, manufacture, supply, installation and subsequent inspection and certification under the European standard EN 16630 by…
Complete children's playground installed on an idyllic beach in Qurm, Oman. This complete playground, designed and manufactured by Industrias Agapito, is located on the sand of one of the beaches of Qurm, in Oman, next to cliffs and palm trees.  The children's area is...
All children, regardless of their physical condition, have the right to play. Fulfilling this right is possible with inclusive playgrounds. Thanks to playgrounds adapted for children with limited mobility…