Date: October 2019.
Location: Sao Paulo, Brazil.
Project: Children's games and stainless biosaludables.
Brazil: stainless steel playgrounds for beaches
Several stainless-steel playsets purchased by Sao Paulo, Brazil, to be installed on its beaches
A coastal municipality in the state of Sao Paulo, Brazil, purchased several playgrounds and urban fitness equipment made of stainless steel to be installed in the area around its beaches and seaside promenades. A beautiful environment that includes new urban furniture where children can play and adults can practice sports in the open air. 
The beach playsets manufacturing requires the use of materials highly resistant to sea corrosion, such as AISI 316 stainless steel and HDPE. Industrias Agapito's rigorous quality controls and manufacturing procedures guarantee an excellent finish and result    
The beach playsets already installed are Tribox Series stainless steel playsets equipped with rotating elements and polyethylene slides, stainless steel swings, stainless steel spring playground equipment with capacity for two users, polyethylene playhouses and stainless-steel carousels for children 
The stainless-steel beach swings are supplied with different seat models. In addition to swings with flat rubber seats, the nest swing with basket seat was installed to enable its use by children with disabilities and the swing with cradle seats for babies. 
The stainless steel beach fitness equipment supplied consists of a modular structure incorporating 13 pieces of urban fitness equipment such as: bicycle post, jumping bench, sit-up bar, finger stair post, press-up bars, disc for wrist work, helix post, shoulder wheel post, the arm bicycle post, push-up bar, zig-zag arm elevation post and balance point bars. 
Hands down, a very complete urban gymnastics structure that allows you to do all kinds of physical exercises outdoors with the guarantee and security that they have been manufactured and certified under the EN-16630 Standard and are endorsed by a rehab doctor and a physiotherapist.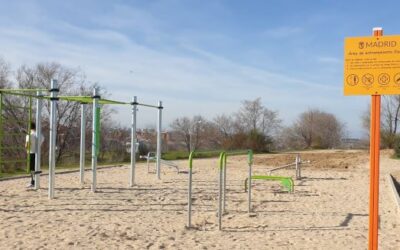 The execution of these 22 urban calisthenics parks involved its civil works, manufacture, supply, installation and subsequent inspection and certification under the European standard EN 16630 by…
Complete children's playground installed on an idyllic beach in Qurm, Oman. This complete playground, designed and manufactured by Industrias Agapito, is located on the sand of one of the beaches of Qurm, in Oman, next to cliffs and palm trees.  The children's area is...
All children, regardless of their physical condition, have the right to play. Fulfilling this right is possible with inclusive playgrounds. Thanks to playgrounds adapted for children with limited mobility…