SECRET PASSAGE PLAYSET · R4256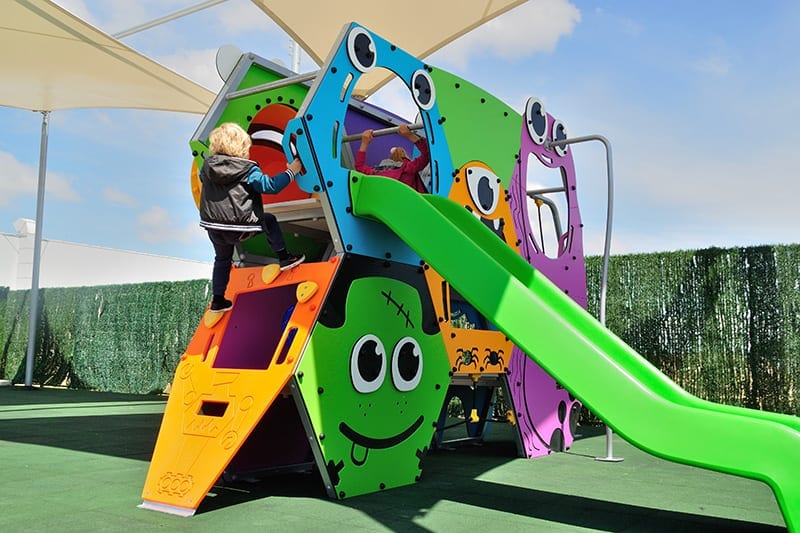 ---
---
CERTIFICATES
DOWNLOADS
---
The Secret Passage monster thematic playset for children playground areas is formed by platforms, slides, big format little monsters, a variety of accesses and interactive panels.
The thematic playset Secret Passage is manufactured with high quality materials like hdpe, high density polyethylene, produced with over 60% recycled plastic and thermo-painted galvanized steel, with an anti-vandalism design ideal for public playgrounds. It's a safe playset compliant with all the EN1176-1 Standards.
Decorated with monsters, among which the elevated crawling tunnel stands out, together with its multiple games and accesses.
Materials
• Thermo-hardened polyester painted galvanized tubed hexagonal structures of 50x50 mm thickness.
• HDPE panels of 19 mm thickness made with more than 60% recycled plastic, maintenance-free and anti-graffiti
• HDPE or stainless steel slides.
• HPDE crawling tunnel
• Platforms and ramps made of 21 mm thick non-slip rubber coated polyethylene.
• Polycarbonate windows especially designed for outdoors.
• Polyamide ropes of Ø16 mm reinforced with 6-strand steel core.
• Polyamide protective caps.
• Stainless steel screws and bolts.
• Fixations: zinc-coated / hot-dip galvanized steel.
• Certified under EN1176.
Share on social networks
---
Recommended for you