New image and new website
Industrias Agapito renews its image and launches a new website
Industrias Agapito is a fifth-generation family business with more than 100 years of history that has been evolving and adapting to new contexts and situations. Nowadays, our urban equipment factory is one of the most reliable in Europe, and our playgrounds and sports circuits are exported to more than 40 countries on the five continents.
This time, we are happy to share with you our renewed image and our new website.
We present the new brand that transmits, through its colors, the diversity and versatility of the products offered by the company. A modern image, which brings a new fresh air of renewal and illusion without losing its original essence. The very intersections in the letters evoke the way of manufacturing and construction of our products in a friendly and fun way.
We are launching a new, more eye-catching and intuitive website with more information and functionalities, aimed at improving the experience of all our customers.
We take this opportunity to invite you to follow us on the different social networks where you can interact with us and be updated on Industrias Agapito's news. Click on the icons to find them: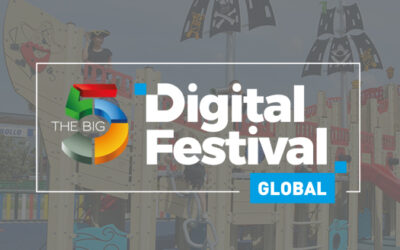 Industrias Agapito will be exhibiting all its novelties and products at "The Big 5", the largest event on construction in the Middle East, Africa and South Asia. From November 23rd to 26th, we will be assisting all our customers in one of…
The design and manufacture of these new galvanized steel scooter racks arise to meet the need by citizens for urban scooter racks in public spaces…
A few years ago, the Municipality of Algeciras decided to invest in setting up several areas for public calisthenics in its territory, aiming at encouraging the emergence of groups of young athletes such as the Aerial Gladiators…