Location: Madrid, Spain.


Project

:

Calisthenics park

.

Calisthenics park installed in Albacete, Spain
A public calisthenics park has been installed by the Municipality of Albacete, aiming at promoting urban leisure and open-air sports.
The Municipality of Albacete makes available to its citizens a 275 square meter street workout area for outdoor calisthenics and routines, equipped with modern certified calisthenics and anti-vandalism equipment.  
The entire calisthenics area is covered with a safety floor made of rubber and EPDM to guarantee the safety of the users in case of unexpected falls or blows. A signpost informs users about the rules of use and gives access by reading a QR code to a series of videos with street workout training for different levels.  
In the center of the calisthenics urban area, there is a workout equipment of 16 round steel poles formed by a trellis of bars, a horizontal ladder, a vertical bar, a zigzag element, a climber and several calisthenics bars at different heights.  
The urban calisthenics area is complemented with the following street workout equipment approved under the EN-16630 standard: parallel bars at different heights, inclined calisthenics bars, an outdoor sit-up bench, balance points, push-up bars, a set of balancing sticks and a double rack.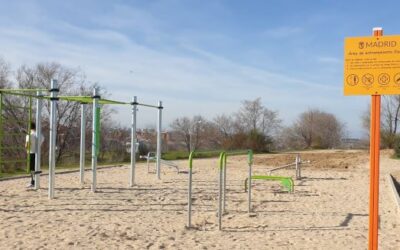 The execution of these 22 urban calisthenics parks involved its civil works, manufacture, supply, installation and subsequent inspection and certification under the European standard EN 16630 by…
Complete children's playground installed on an idyllic beach in Qurm, Oman. This complete playground, designed and manufactured by Industrias Agapito, is located on the sand of one of the beaches of Qurm, in Oman, next to cliffs and palm trees.  The children's area is...
All children, regardless of their physical condition, have the right to play. Fulfilling this right is possible with inclusive playgrounds. Thanks to playgrounds adapted for children with limited mobility…